The world is reading less. And watching more. (I realize that I'm asking you to read this blog, which is really counter-intuitive, but bear with me please.)
Video is the fastest growing form of content marketing. Why? Because, people, being the contradictory creatures they are, expect a lot of information, but do not want to spend time gathering it. Videos, therefore become a great tool to help brands communicate information effectively, quickly and in a more engaging manner…leading to a better recall and action rate compared to other media.
There are other ways in which increased use of video benefits both marketing & sales:
1. Improves SEO rankings
2. Is inherently shareable (much more so than text and images)
3. Is a non-perishable marketing tool (if thought through correctly)
4. Has the potential to provide a solid MROI (Market Return On Investment)
5. Is mobile friendly (people may not want to read copy on a smart phone, but don't mind watching a quick, informative video)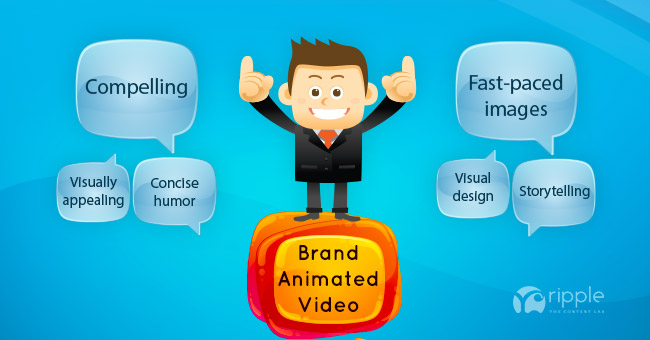 So, now that we know that video works. Let's think through how you can use the video assets you create:
1. They are great for websites or landing pages, especially as you do paid campaigns and create separate landing pages.
2. A YouTube brand channel is a must. YouTube provides reach for your video. Millions of viewers are already on YouTube – your brand can reach these people organically and through paid campaigns. You can leverage YouTube to lead viewers back to your website as well.
3. Share your videos on all your brand's social channels. Use them in the paid campaigns you run on these channels.
4. Use them as a signature in all e-mails that go out from your company's employees.
5. Video e-mail marketing is a great way to spread your information – click-through-rates increase with the inclusion of video in your e-mail. When viewers see the play button, the natural impulse is to click. If your video hooks people in within the first few seconds, you're home. And as we all know, e-mail marketing is still highly effective in terms of MROI.
Right. That's the'dissemination of information to your potential target audience with a short attention span' problem solved. But that brings me to another problem, albeit a good one – you now need more videos to be published at regular intervals to keep the momentum going. And viewers are becoming more and more quality conscious. How do you manage increasing numbers, great quality and your budgets (which are not increasing at the same rate as your need for quality video content)?
If multiple videos are part of your content marketing strategy, email as at hello@ripplemedia.co.