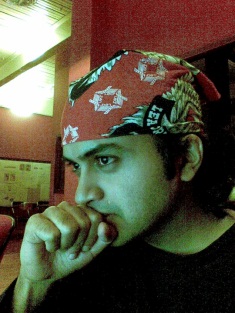 (Smaran Savanal, Animation Director, Ripple Media, sharing his experience on TATSUMI (2011), a Japanese animation feature based on the life and work of the late Yoshihiro Tatsumi, a Japanese Comic Art Legend.)
P r o l o g u e
Singapore, June 2010; a month that proved to be a turning point in my life. Years and years of hard work, patience, staying power, blood, sweat and tears finally bore fruit. An opportunity to transit to mainstream feature film animation! A Dream come true! ☺
During the final year exhibition, the Animation Department of Lasalle College of the Arts, Singapore hosted HR heads from various studios at the exhibition space on Campus (this was primarily to butter them up for placements 😉  ) Ahem..Anyway, moving on, I was chatting with colleagues and faculty with a beer and a pizza slice when I felt a tap on my shoulder.  It turned out to be one of my classmates from China, letting me know that someone wanted to meet me and was standing by my screen (we had screens displaying our work).
To my delight, it was the then Vice President of Infinite Frameworks studios, (now Infinite Studios) Singapore and Indonesia. In the very pleasant chat that followed, he said he liked my work and that ifw (infinite frameworks) was hiring interns for a Japanese animation feature and that I should apply. Needless to say, I wasted no time ☺. Post an animation test, a telecon and an interview at a coffee shop, I found an offer letter in my email inbox stating that I was hired as a junior animator! This was my 'Chandler moment'! (Those who have seen the episode from 'FRIENDS' will know what I am referring to 😉 ) In no time, I was on my way to the island of Batam in Indonesia! The animation studio was based there at Nongsa Riau, whilst the Head Office was based in Singapore.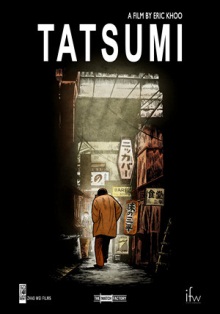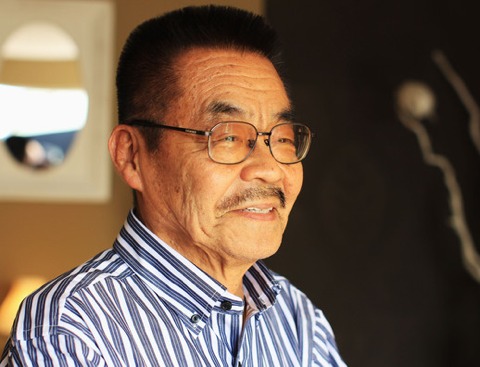 C h a p t e r 1 : Y o s h i h i r o  T a t s u m i  S e n s e i
The late Yoshihiro Tatsumi, traditionally a 'manga' (Japanese comic style) artist, is revered as a legend in Japan. He began his work as a comic artist in post-war occupied Japan, met his idol Osamu Tezuka, and invented the 'Gekiga' genre of Japanese comics for adults.
His life's work, Drifting Life, received the Eisner award for excellence apart from other accolades.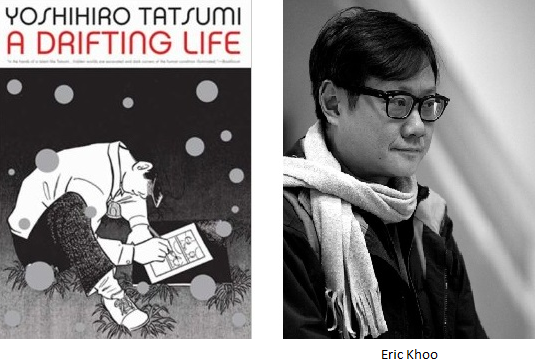 It was a long cherished dream of his that 'Drifting Life' be made into an animated feature film. Interweaved with the biographical material are segments based on Tatsumi Sensei's short stories "Hell", "Beloved Monkey", "Just a Man", "Good-Bye" and "Occupied".
Sensei was ailing from cancer at this juncture. Eric Khoo, a Singapore based film director felt inspired, personally met Sensei and took it upon himself to create and offer the feature as a tribute to Sensei and his work.
C h a p t e r   2 :   D e v e l o p m e n t
The production was led by Eric Khoo's Singaporean company Zhao Wei Films. The visual style and storyboards of the film were created using Sensei's original drawings as reference.
Tatsumi Sensei loved cinema, and he created this new movement of comics using strips with real characters, rather than the four-panel manga convention. Thus he produced works that resembled storyboards for a film. The challenge lay in transcending them out to a widescreen format thereby giving them multi-planes, like layers, to create a feeling of depth and feel. And so it was, that for the cinema, his stories got a new voice.
Each story was so powerfully captivating and moving, and I am sure I speak for my fellow artists as well, that we all felt as if Sensei, through his work, was taking us on a walk through of his life; a life that we were bringing to life for the screen. The very thought of it gives me goosebumps, even today!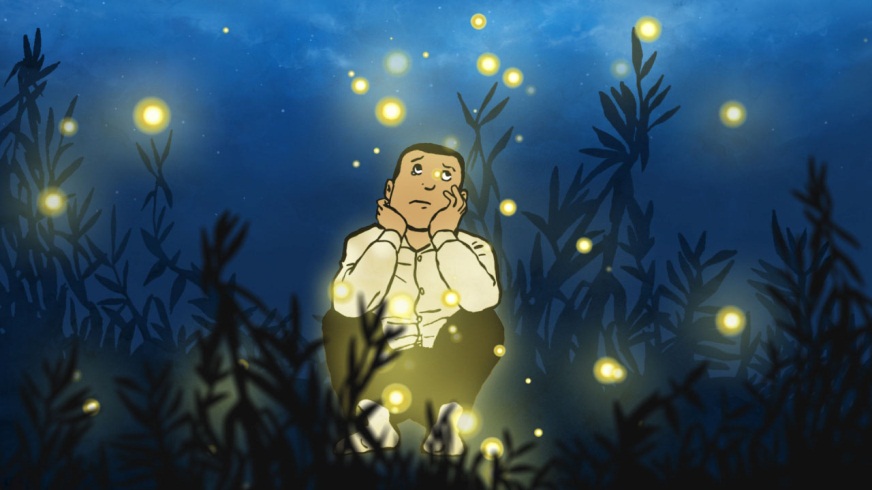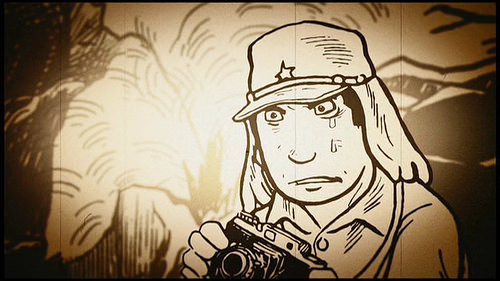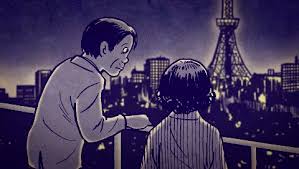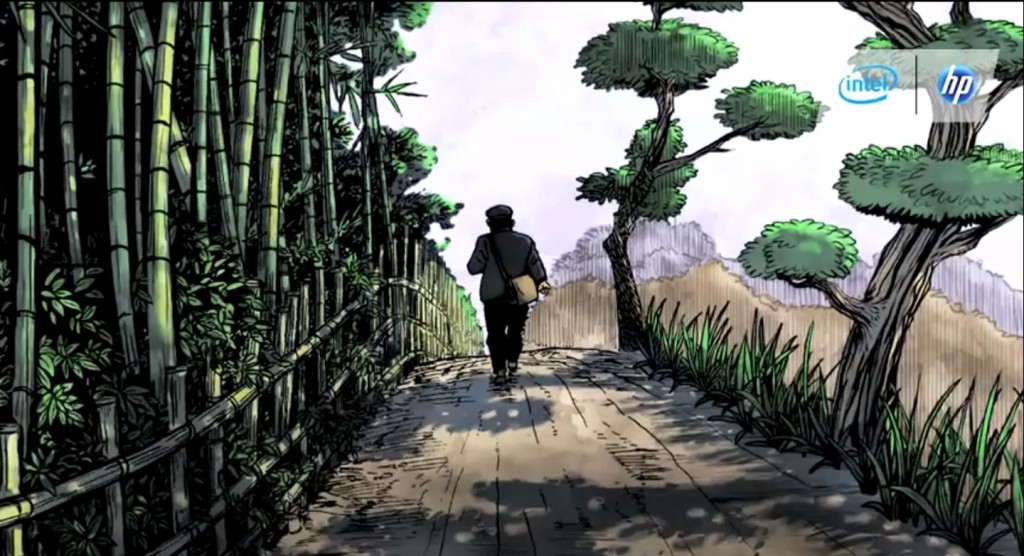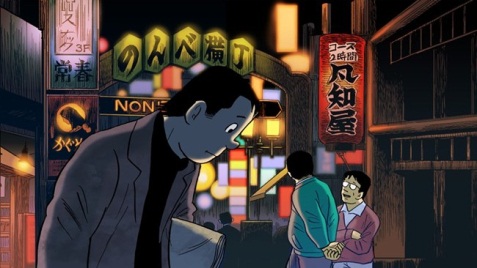 https://www.youtube.com/watch?v=doIaY-iGGGs For your viewing pleasure, Tatsumi the making!
C h a p t e r 3 : C a s t  a n d  C r e w
Tatsumi Sensei was himself involved in the project and oversaw details to ensure authenticity, as well as provided the narration for the biographical segments. Other prominent voices were performed by the Japanese stage actor Tetsuya Bessho.  Minor characters were played by amateurs from Singapore's Japanese minority. People with roots in Osaka were sought out specifically, and Sensei instructed the actors on how to speak the Osaka dialect of the 1950s.
Animation work was initiated in March 2010 at Infinite Frameworks Studios in Batam, Indonesia. It involved a team of 25 artists who previously had worked mainly on syndicated television shows. The animation team comprised of a multicultural pot encompassing Indonesians, 2 Philippinos, a Canadian and One Indian. I felt blessed to be a part of this venture, being the only Indian on the crew.  I worked as an animator and a render artist on the film. We even recorded a video for Sensei, introducing ourselves, which was shown to him in Japan. ☺  The theme song of this film was composed by director Eric Khoo's then 13-year-old son Christopher.  Christopher composed a total of 3 musical compositions for the film. 8 months of animated bliss ensued!
https://www.youtube.com/watch?v=doIaY-iGGGs Tatsumi Trailer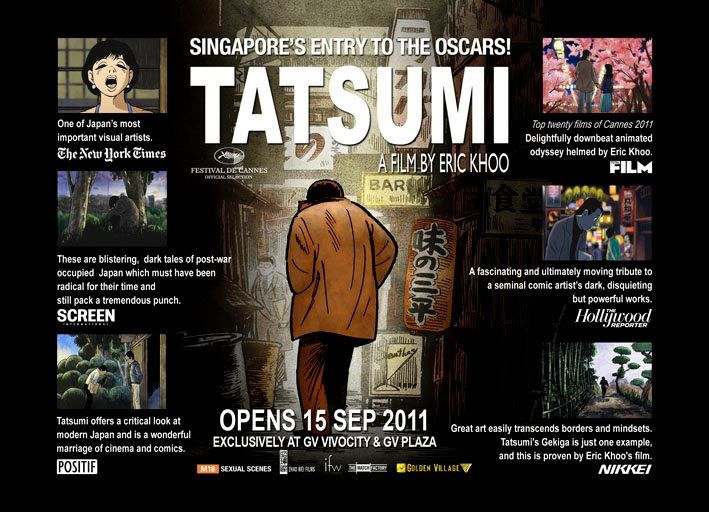 C h a p t e r 4 : A c c l a i m
The film premiered in the Un Certain Regard section at the 2011 Cannes Film Festival on 17 May 2011. It later made its box office debut in the Singapore box office on 15 September 2011. The film was selected as the Singaporean entry for the Best Foreign Language Film at the 84th Academy Awards amongst other accolades around the world. The Accolades  list is as follows:
• Singapore: Grand Opening in Singapore: Received excellent reviews in the Media
• Cannes Film Festival 2011, France: TATSUMI bagged a nomination under the   'UN CERTAIN REGARD' category and received a high audience rating of 5/6. It received good reports from 'The Hollywood Reporter'
• Barcelona, Spain: The SITGES 2011 Film Festival was held from October 6th to 16th on the Catalan Coast of Spain in Barcelona. Tatsumi won the award for the Best Animated Film.
• Asia Pacific Award: Nominated as Best Animation Feature Film at the Asia Pacific Screen Awards
• Final List of the Oscar Academy Awards: On Oct 13th 2011, the Final List of Film Submissions for the 2012 Oscar Foreign Language Films was announced. Sixty Three Films will compete for the Best Foreign Language Film in the 84th Academy Awards. "Tatsumi" qualified as a contender from Singapore.
• The screening of "Tatsumi" at the Tokyo International Film Festival, Japan October 2011, was amazing; huge applause, standing ovation and great positive feedback, both online and offline.
• Tatsumi: Best Film at the Dubai Film Festival 2012
• Tatsumi film trailer screened at the Berlin Film Festival 2012