As businesses see significant sales growth through video marketing, the need for a video agency which can create quality content at scale becomes very real. That's where Ripple Animation comes in!
Ripple is an animation studio focused on creating explainer videos, demo videos and marketing videos that drive conversions. With offices in New York, Jerusalem, Mumbai and Delhi, we serve large conglomerates, mid-size companies, and startups across the globe.
We are honored to announce that Clutch has named Ripple Animation a top B2B company in the creative and design category!
Clutch is a B2B ratings and reviews platform operating from Washington DC, USA. Clutch's analyst teams conduct independent interviews with clients of service providers to ensure that reviews are authentic. That's how you know you can trust their ratings and rankings and why this award is so meaningful!
We are thrilled to be ranked as a leading explainer video company in Mumbai, India on Clutch!
"We are thrilled to be chosen as the leading explainer video company in Mumbai by Clutch. This award goes to all our writers, visualizers and animators who work hard every day to help our clients achieve business growth via video communication."  – Madhura Samarth, Founder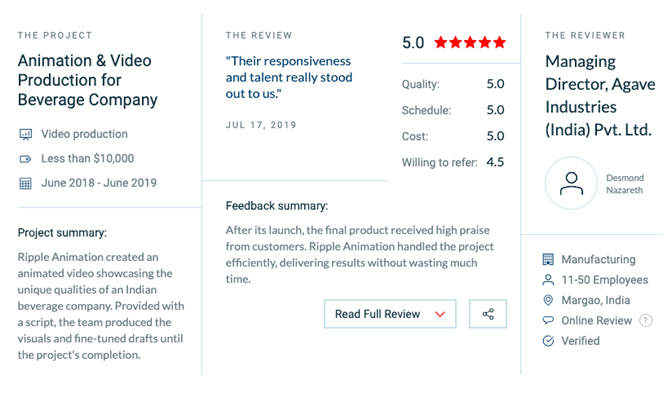 We are thankful to all of our wonderful clients for allowing us to be part of their success, especially those who took the time to leave us a review on Clutch and rate us on Google. This award is in part thanks to them!
We encourage you to check out our Clutch profile to learn more about how Ripple Animation can help you achieve your business objectives using video content! Interested in starting a project with us?
Get in touch with our team!